I try to make something every day, it keeps my creative processes going. This week I have been doing some dyeing of organic bamboo velour using the low water immersion technique and procion mx dyes. The resulting fabric was used to make facial cleansing pads for a wholesale customer: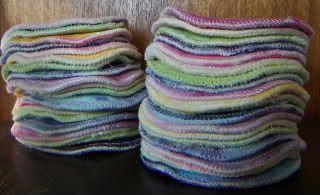 Pretty aren't they?
I've also been meaning to make some leather and sheet metal bracelets for a while, and once again an article from Belle Armoire gave me a good kick to go and do it. Here's the result (apologies for poor pic):
Firstly I bonded my brass sheet with craft foam and then ran it through my sizzix to cut a rectangular shape. This was then put through again inside a cuttlebug embossing folder. The resultant image was then randomly inked with Ranger alcohol inks. Leather was cut to create the bracelet, 2 holes punched in the brass and the brass sewn to the leather. Bird images were then stamped in StazOn on the brown one (not on the green, the suede on this is much darker than shown in the photo and I might add some beads to it). Ribbons were attached and threaded through further holes as fastenings. The brown bracelet is for the monthly art raffle swap, the green is for me (and I'm wearing it at this moment).
I loved the end effect but find the ribbon fiddly to tie. I will probably try making them with resin poppers to fasten next time.