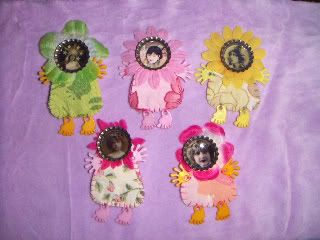 I have done some work recently, honest! A little while ago I made the above super-cute brooches (I make 'hairy' versions too :)). I made the pendant below for a friend, it was very hard to give away: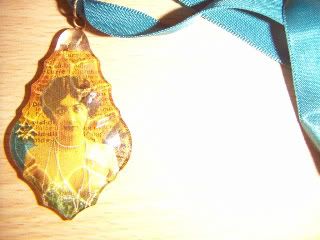 Last week I made a 'house' picture from collaged art images and crackle paint, with lace, button and patina'd chipboard for embellishments. It's for a swap on UKScrappers - my return swap is winging it's way back here this minute.
Today I sewed the most gorgeous dungarees with oriental trims, I'll take and upload photos tomorrow.
I have 2 other swap things on my 'to do' list - an altered matchbox using the theme of 'bird' and 9 pieces of jigsaw with individual themes for different people. Stamping WILL feature. Watch this space.
My current mission is to do more stamping, hence joining UKStampers (and getting a sub to Craft Stamper, oops!). I want to incorporate stamping into my fabric work and jewellery. I also want to experiment more with masks and stencils, and do more fabric dyeing.